Posted by Aman Kadd
On Thursday, 17 January 2013
1 comments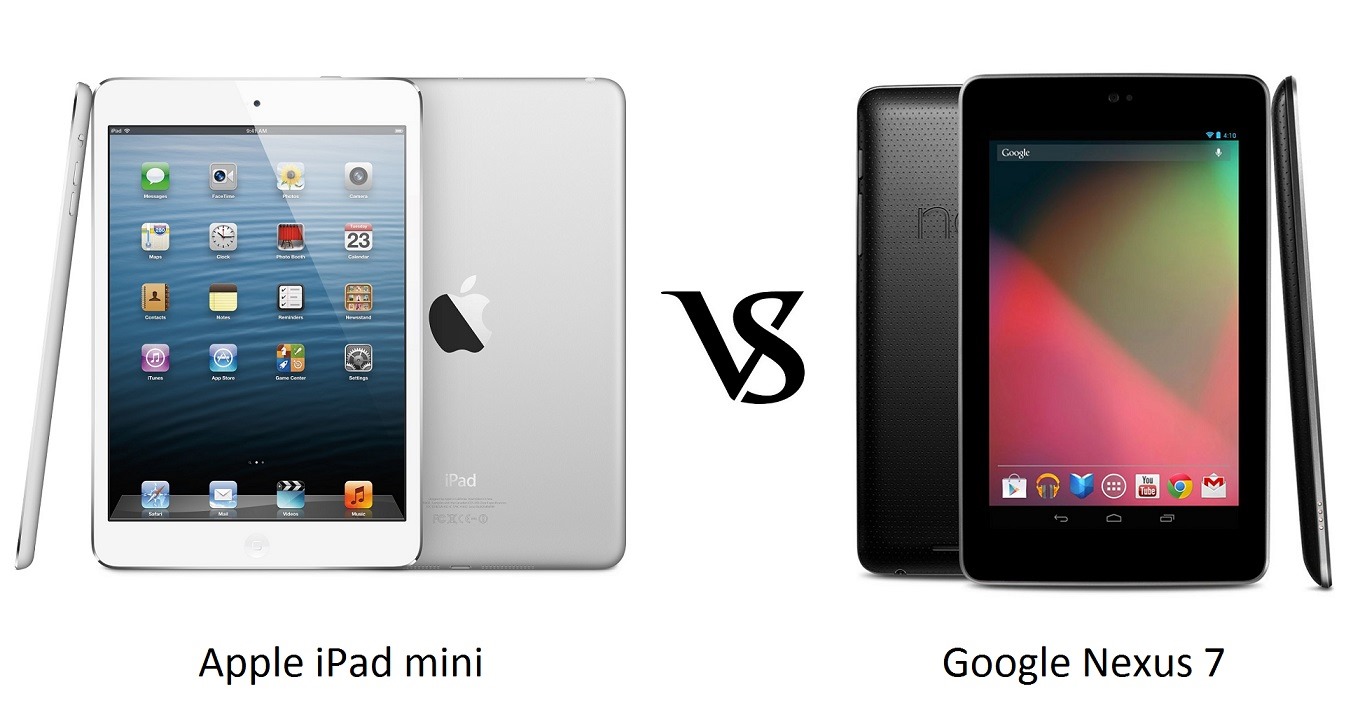 There are plenty of tablets streaming in market every day, but Ipad mini and Goggle Nexus 7 stands as the most desirable gadgets these days. However, people have now started debating about the features and specs. Although it's hard to keep them on the fair margin, yet we will objectively to appreciate the prominent differences between the two gadgets.
Screen
When it comes to screen iPad Mini it has wider display section of 4.5 inches while Nexus is a little narrow with a screen measuring 3.75 inches. Hence, Ipad mini offers better readable zone, while nexus is launched with sharper features.
Design
In terms of design you can fairly compare the two gadgets. For Ipad mini, stands out for the impeccable choice and is constructed with high-quality materials, sleek body (0.28") while Nexus 7 (0.41") is comparatively thick. However, Goggle Nexus 7 is easy to handle, as it is attributed with narrow physic. Though with classy design and distinct home button, it still rocks, but Google Nexus 7 is ready to give you pure android experience with its exclusive user's interface. There are many similar features between the two, yet a there are a bunch of features that sets them apart. For instance, 3.5 mm handset jacks, power buttons, volume controls, and power/data ports is available with ipad mini, whereas nexus bring to you a decent Micro USB port.
Display
Display resolution plays a vital role in deciding the quality of gadget. Ipad mini has larger screen, but it will disappoint you with typically low resolution of 1024x 768 (162ppi). Alternatively, Google Nexus 7 is equipped with shaper features and designed with impressive display resolution of WXGA 1280X800 IPS display (216 ppi). Yet a few sustainable feature is infused both of the gadgets like iridescent color tones, wide viewing angles, high brightness output and better outdoor visibility
Processor and Memory
When it comes to hardware, Ipad mini is designed with dual-core 1 GHz Apple A5 processor with 512MB of RAM, on the other hand Google Nexus is designed with a tougher and stronger hardware of configuration such as quad-core NVIDIA Tegra 3 CPU with 1 GB of RAM.
Camera
Nowadays people buy gadgets, which bring in a slight fun and Camera is something that adds to the flavor. A gadget is expected to have both the front facing camera, which you can use for the video chatting and rear camera for clicking aesthetic scenes. Ipad mini is supplemented with only rear camera, yet it is of top notch quality, while Nexus does not have such promising features.
Battery
Ipad mini sustains for longer race if you happen to slightly adjust the brightness and other battery eating apps. Nexus 7 is also stronger and gives the battery backup of a day or two.

Conclusion
Price is something which has becomes a concern among buyers. $200 makes Google Nexus 7 makes a slightly interesting, as Ipad mini will cost you something around $330. It is hard to decide and rank as first or second, but one can say that both of them are interesting at their own fronts.
Author Bio
:
Tarun Jaitely is a Tech Blogger and a freelance writer. He also provides Guest Posting Services and right now writing this guest post for Ipad Mini Case